Update: The new book is out! The FREE web-based course has been put into book format complete with the same blueprint Travis used to achieve financial freedom in only five years. Click the picture below to see what others have to say about the book.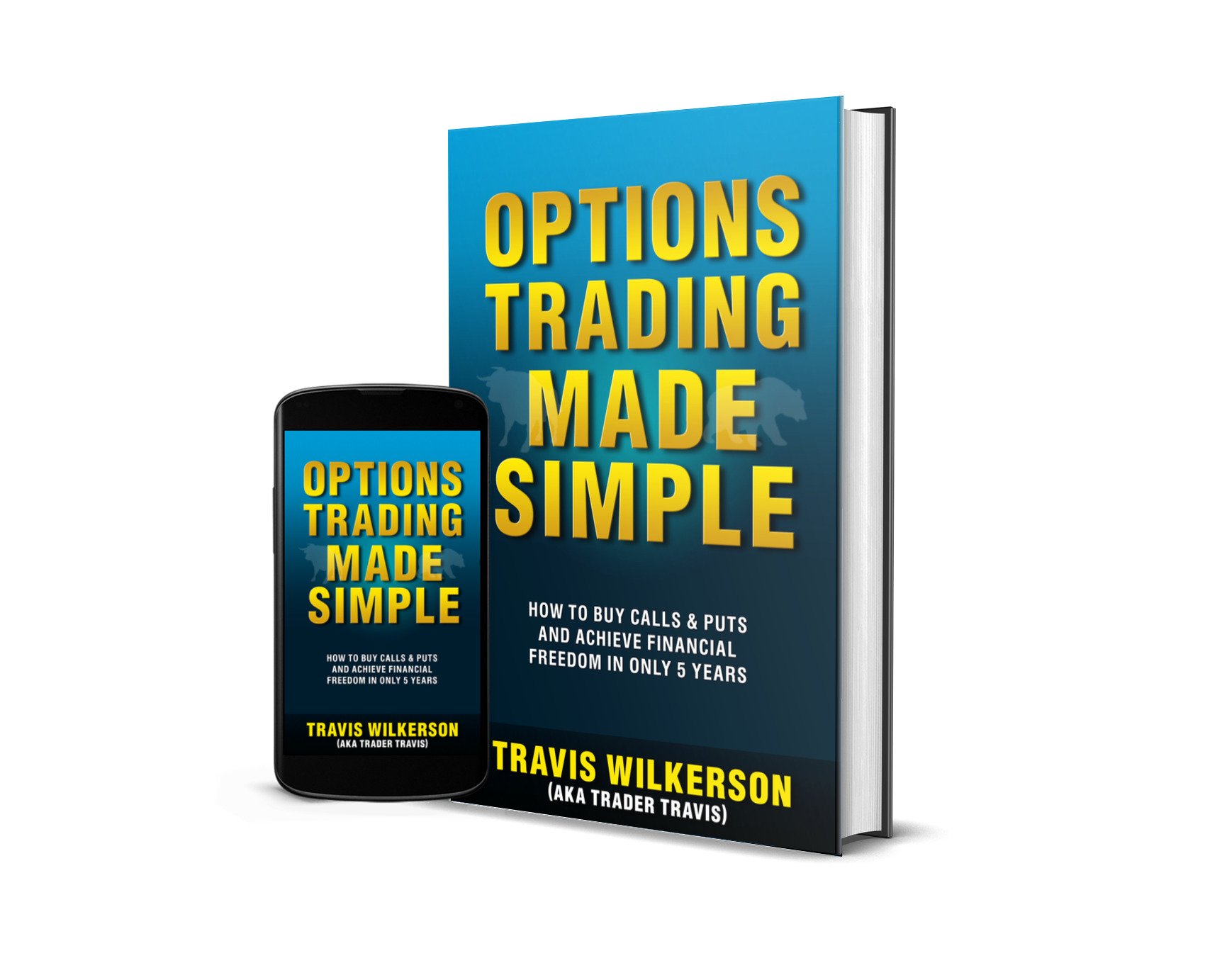 Also, my *newest* book is out: 10-Miunute Options Trading and ETF Investing
Options Trading Success Story - Roger W
"The transformation from skeptic to options success…"
Today's options trading success story is from a guy who was skeptical of anyone selling a course on online options trading. However, he's now a believer in what we do.
It's amazing how success can change ones opinion.
Below is a copy of an email exchange between Roger and I. Roger was one of our trade contest winners from our options trading class. He won the contest with a trade that produced a 378% return on investment.
He never sent me a bio, so I thought I'd let you read about his journey through our email exchange. Roger holds a special place in my heart as he was the first person to bluntly question my integrity (smile).
"I learned a great deal more in your workshop than any of the ones I spent thousands on! I will make that statement to anyone."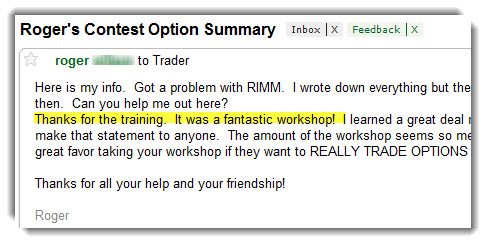 Note: I had just sent an email to all students as I was very disappointed that some people were "not" following the proven trading template I shared with them. They were still trying to do things their way. The following was his response...
"WOW, Travis! This isn't the class I was a part of was it? I thought we had better heads than what I'm reading in your email. Hope your son is doing well by the way.
Listen, I don't know how in the world some of these folks are confusing what you are teaching them. Granted I have made some mistakes since our class ended and I began investing REAL money.
Most of my problems pertained to the broker I used (as you know). Nevertheless, I took the information you taught us, read the IBD everyday (several articles of good reading and tips), did a little studying on my own and so far this is what I have done:
found 8 options (unfortunately my idiot broker couldn't purchase but two) that returned or would have returned over 100%. I cashed in on two of the largest--one 230% and one almost 300%.
approximately 8 more I cashed in at an average of about 65%...in 2weeks or less no fooling!
altogether I had 4 triples, 8 doubles (over 60%) and about 5 or so that average around 25%
I held no options over 2.5 weeks with the majority bought and sold within 2 weeks.
My problem was trying to get the broker to buy the options I found then trying to sell them to strip my profit. I didn't do well in trying to understand the brokers stop, trailing stop etc program. Some of the problem was mine and a lot was theirs. They screwed up several of my accounts, that's why I left them.
What I DID do and appreciate very much by the way, is study your video on STOPS. It was very informative, easy to understand, and PERFECT TIMING for what I needed to drown out my frustrations with the broker and get on track of successful trading.
Anyway I said all of that to say this-I studied options for about a year before joining your training sessions. You taught me more in 5 weeks than I got out of the $20,000+ of seminars, online courses, etc. I never felt comfortable prior to your classes to even ATTEMPT to step in the market with REAL MONEY.
Before your course my paper trading was about breakeven. I finished your course, followed the templates and the instructions you gave us and the above are the results. I mean, it was as simple as that, Travis!
I took your course, followed your lead, took notes, paper traded, followed the do's and don'ts you suggested throughout the classes and despite myself and the adversity I created at times, I found all kinds of trades with very good short term returns.
I appreciate the fact that options trading is not for everyone; it's also not that difficult if one just follows YOUR lead and put forth a little effort.
I read your email twice and the only comment I have to leave you with is this: you get out of it what you put into it!
Your classes, your expertise, your desire to help others like myself succeed has helped me more to set forth a plan of financial independence that $20k worth of courses, seminars, video/cd's could not.
Maybe it was my fault I didn't "get it" with the other tutorials...but in just 2 weeks after taking your 5 week course I hit double and triple returns!
Anyone wants to paint that "coincidence", grab a brush and start stroking!
For me, I'm gonna sit back on my computer with my PR/MC templates, my daily IBD, and MarketClub platform and pull those big fish in.
Stop kicking yourself in the pants. You're the best my friend and I am very proud to have had the pleasure of learning from you.
Thanks for everything you helped me with. If I can ever return the favor let me know...as long as it doesn't run into my option time!!!!!
Bless you and your wonderful family,
Friend for Life
Roger W."
Note: I then sent him an email thanking him for the nice email and apologizing to him because I misjudged him. I thought Roger would request a refund because he was sooooo skeptical when he signed up. We went back and forth through email before the class. The following was his response...
"Well at the point I have found you and your tutorial I didn't trust anyone selling an option package! I had bought too many and none of them were willing to share ALL the components to successful Option trading.
The only way I knew to draw you out into the street was to question the integrity of your system.
If you wouldn't have cared OR if your system would have been as others were all talk and no action I would have moved on. But when you responded AND in defense of your system then I felt for the first time 'I have found someone with a least integrity in their pocket.'
As I read the free tutorial and began to understand who you really were and realized we had a lot in common...
We were taken for all we had, we kept falling but kept climbing, and we care about people like ourselves. That was good enough for me. And it turned out the best business relationship I have ever developed."
Disclaimer: These results are not typical. I think we're all intelligent adults and we know there's no such thing as typical. Everybody's going to have different results. If you take no action, you will get no results. If you take intelligent action, you will get intelligent results. I will however tell you that these types of returns are not unusual and I have several student emails to prove it.

Wealth Building Resources
Free Video Case Study (Newsletter)

Options Trading Made Simple Book (My Kindle book)

Options Wealth Academy (High End Training Program co-founded by Travis)
Below is a small sample of our success stories (my desire is that one day YOUR story will be on this page)...
Learn Stock Options Trading Home Page