Using Stock Trend Analysis to Find Profitable Option Trades
Module 6: Trading Options
Lesson 4: Stock Trend Analysis
This lesson on stock trend analysis will show you how to use your stock watch list to find option trades. Stock trend analysis can protect you from big losses and help you find profitable option trades.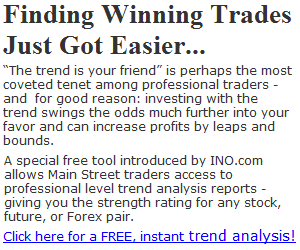 So far in this seven step trading process you have used the Investor's Business Daily to find stocks.
You will use the paper's proprietary fundamental analysis screen and pull out only the best stocks and make sure they have listed stock options (Step 1).
I will repeat something that I said in an earlier lesson:
Finding great stocks through fundamental analysis is the first step in the process of trading stock options. Fundamental analysis builds the foundation of a successful trading business.
If you skip or don't properly implement this first step, you might as well not trade stock options because you're already starting off on the wrong foot.
After you have found these stocks, you then need to create a stock watch list of 50-100 stocks to scan for profitable option trades.
Your stock watch list is created by narrowing down the list of stocks using a stock chart analysis. You're going to look at the stock chart and if you like how the chart looks, you add it to your stock watch list (Step 2).
Now we move on to Step 3: Stock Trend Analysis

Stock Trend Analysis
Regardless of what type of stock chart you use (bar, line, candlestick), all three do nothing more than reveal the buying and selling patterns of the investors. This is something that is hard to discern by reading stock quotes in the daily newspaper.
This is why trend analysis is so invaluable because it's easier looking at a visual representation of the buying and selling patterns.
The stocks trend is important because it is like a flowing river. If you are swimming in a river, it is much easier to swim with the tide than against it.
When you are trading stock options, your chances of making a profit are much greater if you trade in the direction of the trend (swimming with the tide).
Essentially your trend analysis routine boils down to four essential things:
You're going to look at the chart and determine if the stock's price has been trending up or down. If it's been trending up, buy call options. If it's been trending down, buy put options.


You're going to look at the correlation between a stock's price and volume activity (as shown by the price and volume bars).


You're going to evaluate your technical indicators to look for overbought and oversold signals.


You're going to determine where the stock's support and resistance levels are. Support and resistance are areas where the stock has had trouble proceeding past or an area where the stock halts and changes direction.
Watch the video below as I scroll through my stock watch list looking for the 4 guidelines listed above:
If the player is not showing check your javascript and flash player settings.
Can your scanning tool do this??     How to spot winning trades in 2009
My favorite Indicator for inflation and it's not gold

I used my brokers charting software, but if you don't have a broker yet you can review your stocks one-by-one at www.stockcharts.com.
Please proceed to lesson 5: Stock Option Chain.
---
Module 6: Trading Options
Module Instructions: According to how the site is set up, you are now in Module 6: Lesson 4 (Stock Trend Analysis). For the most effective learning experience, read through each lesson in this module one by one, in the exact same order as they are listed in the table of contents to the left.
Return to the top of this page, "Stock Trend Analysis"
Return to options trading "Home Page"