"This Free, Instant, Stock Trend Analysis Tool is a Huge Time Saver..."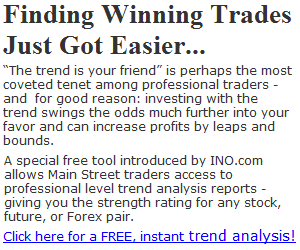 The stock chart analysis provided by Ino.com saves you time by performing stocks trend analysis for you.
Using the results of this scanning tool can improve your trading and keep you out of stocks with weak trends.
Said another way...it keeps you from buying stocks and watching them fall as well as selling and then watching what you sold rise in price.
Automate as much as your trading as you can!
Performing stock trend analysis can be a time-consuming task. It's well worth the amount of effort, but nonetheless it takes a lot of time.
I found software that will help you automate the process and you'll quickly realize how much time it will save.
Having software perform your stock chart analysis saves you from reviewing hundreds of stock chart's yourself.
As my mentor said, "work smarter not harder."
So What is Stock Chart Analysis
Stock chart analysis has a wide range of definitions depending on who you ask. But for the purpose of what we are talking about today we are referring to evaluating the stocks price trend.
As a trader who only trades call options or put options, you're going to look at the stock chart and determine if the stock's price has a strong trend up or down.
If the stock has been trending up, buy call options. If it's been trending down, buy put options.
The stocks trend is important because it's like a flowing river. If you are swimming in a river, it's much easier to swim with the tide than against it.
Your chances of making a profit are also much greater if you trade in the direction of the trend (swimming with the tide).
In your case though, Ino.com's trend analysis tool will scan the stock charts for you and then e-mail the results to you. Then you're only going to look at the stock charts that have the greatest probability of producing a profit.
How Will You Benefit?
In the beginning you'll want to learn how to evaluate the stocks trend on your own, but after awhile you'll grow tired of sifting through hundreds of stocks only to find a few that show promise.
Using Ino.com's trend analysis tool allows you to automate your trading so you can spend your time doing the things you enjoy most.
Isn't having more free time the reason why most of us want to learn how to invest our money anyway?
I used to love going through my stock charts, but after automating the process life is so much better. I have so much more time on my hands and my wife is certainly happy because the time saved is now spent cuddling with her on the sofa (smile).
Now I'm sharing a way for you to do the same thing for FREE.
I'm a member of a trading service (Marketclub) that's generous enough to do stock trend analysis for you, free of charge.
What's the catch? No catch, it's their way of giving you a test drive of their advanced stock trend analysis tool (Smart Scan) to see if it's right for you.
It's the ultimate win-win situation.
It's like a baker who gives you samples of bread in hopes that you will purchase from them. The parent company of Marketclub (Ino.com) lets you test out their tools to see if they are right for you.
You can always remain a free user of the stock chart analysis tool if you so choose to. I do however, recommend that you join Marketclub, but I'll leave that decision up to you.
It's easier making money with Marketclub, so I'll remain a member!
Watch the video below for a demonstration of how easy your stock trend analysis will be:
Here's a quick recap on how to use the tool:
Click on the link below and enter your name and tell them where you'd like them to send the results...
Once you receive the welcome e-mail follow the link and input your favorite stocks. Then sit back, relax, and let someone else do the work...
Once you start receiving your reports look at all charts with a trend analysis score of +85 to +100 (for call options), -85 to -100 (for put options), and +/-50 (for covered calls)...
When you are reviewing the chart look for signals to enter a trade...
One point to keep in mind is that ultimately nothing will happen unless you take action and get off the sidelines and start using the resources that are available to help you become a better trader.
Remember, "work smarter not harder."
The process has been made easier for you since I've already gone through the trial and error stage.
As a matter of fact the stock symbol for "Google" will already be loaded for you when you click on the link below.
All you have to do is enter your name and tell them where to send the results.
Click on this link for a free stock chart analysis
And you'll be on your way to an effortless way of performing stock trend analysis.
Your stock, or stocks, will be thoroughly analyzed and the results will be sent to you. Then it's up to you to make the profitable trades.
Return to the top of this page, "Stock Chart Analysis"
Return to Learn-Stock-Options-Trading Home Page
All things Market Club: The links below take you to all the articles I wrote about the Market Club Trading Service: